INVISALIGN LEEDS AT HORSFORTH SMILE CLINIC
LOCKDOWN UPDATE: 4TH JANUARY 2021
We are fully open for all treatment with full protective equipment (PPE) during lockdown.
---
If you've been searching google for Invisalign Leeds, you're in the right place! Horsforth Smile Clinic is an INVISALIGN ELITE Preferred dentist in leeds and provider of Invisalign Clear Braces in Leeds with hundreds of patients every year!
We make sure our Invisalign treatment gets you the results you want – a stunningly beautiful smile that will last a lifetime. Let's talk braces.
When people are talking about getting "braces" nowadays, they're no longer talking about the wired, painful train tracks of the 90's. It's all about Invisalign. These are clear, comfortable braces for your teeth.  They are completely removable giving you that flexibility when eating, or whenever it's just not convenient for you.
If you want to find out more about from the invisalign website just click here. The great thing about Invisalign is that they are totally invisible, and most people won't be able to tell you are wearing them, even from up close. How amazing is that?
Book your FREE Invisalign Leeds Appointment below and get £200 off your treatment!
Invisalign is one of many solutions we offer for teeth straightening but is our most popular. It does away with the hurt of constant pressure from a train-track style brace that can cause pain, bleeding and aching at night. Invisalign can also be used as part of a bigger treatment plan for you, including cosmetic dentistry.
We are also pleased to offer all new patients a fantastic Invisalign offer with over £200 off your Invisalign treatment in Leeds.
We are one of the main clinics in Leeds to provide the cheapest invisalign in Leeds to our patients. However, this does not mean we compromise on quality. We have a range of Invisalign treatment options available.

Get your clear braces from a trusted Invisalign Provider with two decades of experience!
At Horsforth Smile Clinic we are delighted to offer our Invisalign patients flexible, affordable payment plans to allow you to pay for your clear braces journey in instalments.
For just a simply monthly payment you can enjoy worry-free payment and get beautiful straight teeth at the end! Perfect!
This makes is much easier to plan your payments and reduces the burden on our patients. It's our job to make sure your treatment plan is hassle-free throughout.
INVISALIGN FROM £1600 with Payment Plans Available!


What are Invisible Braces?
The Invisalign Programme involves a number of clear braces made from 3D Printed medical grade plastic: polyurethane from methylene diphenyl diisocyanate! Each aligner is placed into the mouth and moves the teeth a little bit further along your treatment plan until you have a beautiful smile at the end of the Invisalign journey.
The programme starts with a dedicated scan of your teeth with a CBCT scanner, and an understanding of what is happening with the movement of your teeth. Once we have deemed you suitable, we begin the treatment.
When we begin your treatment, you receive a number of clear aligners of varying pressures on the teeth – the first one with a minor adjustment related to your treatment plan.
Depending on the movement, you will receive a new set of aligners to use based on how long the treatment is lasting. For example, if there is minimal movement, you may just need 3 aligners over a period of 5 months.
The aligners have been designed to put minimal pressure on your teeth – when the movement has happened, you simply put the next aligner on, and continue till you have beautiful straight teeth. Simple!
Your Dentist – Dr. Zafar Khan has over 15 years professional experience in Invisalign, 3D Dentistry, and 3D printing, so we know EXACTLY how to move your teeth and understand any underlying problems that could hinder it. For example, if you have a damaged tooth, we can repair the tooth prior to Invisalign treatment and then advise you on how to progress to Invisalign.
How does Invisalign Work? VIDEO
Invisalign Vs. Fixed Braces
Fixed Braces can be used in extreme orthodontic cases where teeth have to be moved quite substantially from an unnatural position. For example, if you had a tooth that was in your upper gum, that needed to be removed, and surrounding teeth put in the correct place, a metal wire brace (train track) braces would work better for you. However, train-track or fixed style braces can cause problems, the first of which is an unsightly look and not aesthetically pleasing. A lot of our patients do not like fixed-style braces.
Alternatively, many of our patients like fixed braces! There are a number of colour options for fixed braces, and kids can often make it fun or create a trend. It entirely depends on the patient.
Fixed Braces also bring the problem of food. Food can get trapped between the brackets and wires, and, if not brushed correctly can cause problems like infections and bad breath. It is much more difficult to clean between the teeth with fixed braces and care must be taken to ensure a proper cleaning routine of brushing and flossing is completed – preferable after every meal. For many people this is just not possible, and that's why the preferred treatment of Invisalign may be needed, dependent on your circumstances.
Should I choose Invisalign for my teeth?
Our experienced dental staff will advise you on the best course of action for your Invisalign treatment. We will carefully analyse the movement required and work with you to get the best result possible. Sometimes, only a minor adjustment is needed, such as a small rotation of a tooth. In other times it will be a greater movement needed.
I've been searching for 'Invisalign Leeds' in Google, but I'm not ready to start?
No problem! If  you have any questions at all about Invisalign clear braces or want to know about what is involved with getting invisible braces, please read on, or send us a message through our contact form.
Our friendly staff will book you in for a FREE initial consultation to discuss your options! We want our patients to be 100% comfortable when taking invisalign with us! If you want to take advantage of the £200 voucher, we would invite you to visit the invisalign voucher page.
Some of our patients have been searching on Google for weeks, trying different dentistry practices to get the best price. We will always provide you with a competitive price and excellent patient care throughout your experience with us.
We can safely say we are a premium provider of Invisalign in Leeds – the number one choice for Invisible braces in Leeds.
I've found invisible clear braces much cheaper?
We've noticed a number of online dentists cropping up in Google, who are offering clear braces for a fixed price.
We do not recommend this option in the first instance as Invisalign treatment requires the dedication of a dentist to ensure there are not issues along the way.
For example, a retainer may break, or the alignment or tracking of the teeth is not happening correctly. Without a dentist looking into your mouth and seeing how your treatment is going, you won't know if you will get the exact results you need.
That's why at our practice, we give every patient an individual service, we ensure you are fully aware of the clear braces treatment as time passes, we advise you on any action to take as soon as issues arise, and make sure your results are as expected.
If we need to make alterations we can do so quickly, and with the expertise of a dentist at hand who actually cares about your smile being beautiful, not just a faceless website.
What happens first on my Invisalign Journey?
The first step to determining whether you are suitable for invisalign is a consultation with our principal dentist – Dr. Zaf Khan. In this consultation we will be able to do a digital "Clin-Check" to determine the current status of your teeth, and give you a 3D moving image of your teeth, to show you exactly how your teeth are going to move. See the video below!
As you can see, the video shows the precise movement of the teeth throughout the Invisalign programme of treatment, giving you total peace of mind as to what the end result might look like!
I have an underbite, can Invisalign help me?

This is also known as a REVERSE OVERJET, and can be resolved with Invisalign. If the movement required is much greater, then we may need to book a further consultation to see what other treatments are available for you. In some cases jaw surgery may be required, if the problem is severe, but we will guide you through the process before undertaking any treatment plan. In most cases Invisalign will resolve the problem.
I have an overbite, can Invisalign help me?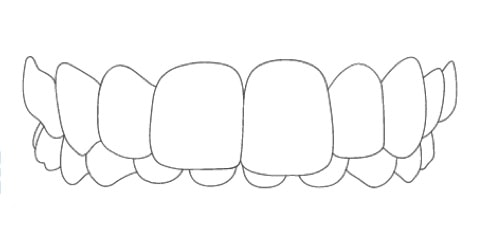 An overbite or overjet is where the top jaw is raised over the bottom jaw causing an overlap of teeth. This may be caused by a more prominent upper jaw or a smaller lower jaw. Invisalign can help with overbite after correct alignment of the jaw is reached – again this may be through surgery to align the bottom and top jaw properly. Invisalign alone may be able to resolve the problem.
I have overcrowding, can Invisalign help me?

Overcrowding of teeth can cause problems with plaque, cleaning and can get worse over time. Invisalign can help with this!
How many aligners will I need?
This entirely depends on your treatment plan, and level of movement required. If there is more movement, there may be up to 15 aligners required, and this will need you to wear them most of the day. For minimal movement, we may only need 2-3 aligners over a period of 4-5 months.
How long will I have to wear Invisalign clear braces?
This is the big one. Invisalign treatment only works with consistency. Invisalign braces must be worn at least 22 hours per day which leaves you time for eating! When brushing and flossing you will simply remove them. At bedtime, just keep them on through the night and your teeth will be incrementally moving while you sleep!
Will I have to sleep with Invisalign clear braces?
Yes! It is important to wear the clear braces for no less than 22 hours a day to get the optimal treatment and optimal progress. Wearing aligners at night may bring other issues such as increased saliva production. If you are struggling to sleep with the aligners in place overnight, please speak to Dr. Khan at the practice and he will advise the best course of action – generally, this will subside after 3-4 days.
What can I eat with Invisalign?
You can eat whatever you like with Invisalign clear braces, but we always say – CLEAN YOUR TEETH AFTER EACH MEAL! Just imagine, you have eaten a meal and now food particles are stuck between your teeth. When you didn't have braces, you could simply have some water, and most of the food particles would wash away. However, with Invisalign you will be putting your clear braces back in your mouth, trapping food, and potentially causing bad bacteria build-up. So we always recommend clean your teeth thoroughly AND clean your brace before putting this back in your mouth. Realistically, you should only need to do this around 2-3 times in 24 hours if you have cleaned correctly.
For busy people, Invisalign works great, just make sure you have a toothbrush to hand an a bathroom nearby!
What foods should I avoid with Invisalign?
We recommend you eat a clean, balanced diet as per normal. Try and avoid high carb foods such as crisps and potatoes, as these can get stuck between the teeth and cause bacteria to build up. Instead, try eating more healthier fruits and vegetables that appear more "solid" in nature. We also recommend increasing your intake of water, to ensure you are correctly hydrated.
Is there any pain with Invisalign clear braces?
There may be some mild discomfort while your teeth get used to a new foreign body being placed in the mouth for long periods of time. In terms of pain, there may be some mild discomfort (but not pain) as your teeth are shifting with each new aligner. It can take 24 hours for the aligner to settle in the mouth and start the next phase of movement.
I have heard you can lose weight with Invisalign?
Many of our patients have found that a side-effect of keeping clear Invisalign braces in their mouth for over 22 hours a day makes them lose weight. The reason is two fold – you feel like eating less with the aligners in your mouth (dependent on your appetite), and you are also more conscious of what goes in your mouth. Secondly, since you are eating more healthy and avoiding processed and high carbohydrate foods – you MAY find you lose some weight. However, this is not a guarantee, and certainly not a primary reason for our patients looking for Invisalign Leeds.
Will I have trouble speaking with Invisalign?
Some people may find a very slight change in their speech when having the Invisalign treatment. This is due to the way the tongue interacts with the palette and teeth, and may cause a slight lisp on softer letters such as "S". Your mouth will slowly get used to the new aligners and your lisp may be barely noticeable.
Can I kiss my partner with Invisalign clear braces?
Of course you can! invisalign clear braces should not interfere with your life. The purpose of it is to straighten your teeth in the most hassle-free way possible. As mentioned previously, it is very important to clean your teeth regularly and ensure the brace is correctly cleaned.
How do I keep my Invisalign clear braces clean?
There are two ways to clean your aligners. We recommend using a product called Retainer Brite for clear braces at least once a week to keep them sparkling clean. This tablet cleans very much like a dish-washing tablet and washes away any debris, bacteria and brings your retainer back to its original state. Its as simple as dropping a tablet in a glass of water with your aligner inside, and waiting 15 minutes. The tablets are available online and at health shops.
A less expensive method is simple dish-washing soap and warm water with a toothbrush.
We recommend keeping a separate toothbrush to clean your aligners, and always recommend you thoroughly rinse the aligners in water before placing them back in your mouth.
Can I still have other dental treatments after my braces?
Yes, of course! We have a number of other treatments, but one of the most popular is veneers, or otherwise known as composite veneers or composite bonding. This can be used in conjunction with clear braces to give you a totally stunning smile without any minor imperfections in your smile.
For those patients looking for teeth whitening in leeds, we also have a number of treatments available to you. Teeth whitening is a very common treatment after invisalign due to discolouration that can occur if you haven't been looking after your teeth properly during your invisible braces treatments.
Ready to begin your Invisalign in Leeds? We've lowered the price for you.
We are offering a superb price for Invisalign Clear Braces, the revolutionary clear brace technology. Our price includes:
CONTACT US TODAY MENTIONING "INVISALIGN LEEDS" 0113 2588780 or leave a message through the website or Facebook.
Do your teeth fall into any of the following categories?
Looking for braces in Leeds? Get in touch today!
Do your teeth fall into any of the following categories?
Book your FREE Clear braces Appointment in Leeds below and get £200 off your treatment!